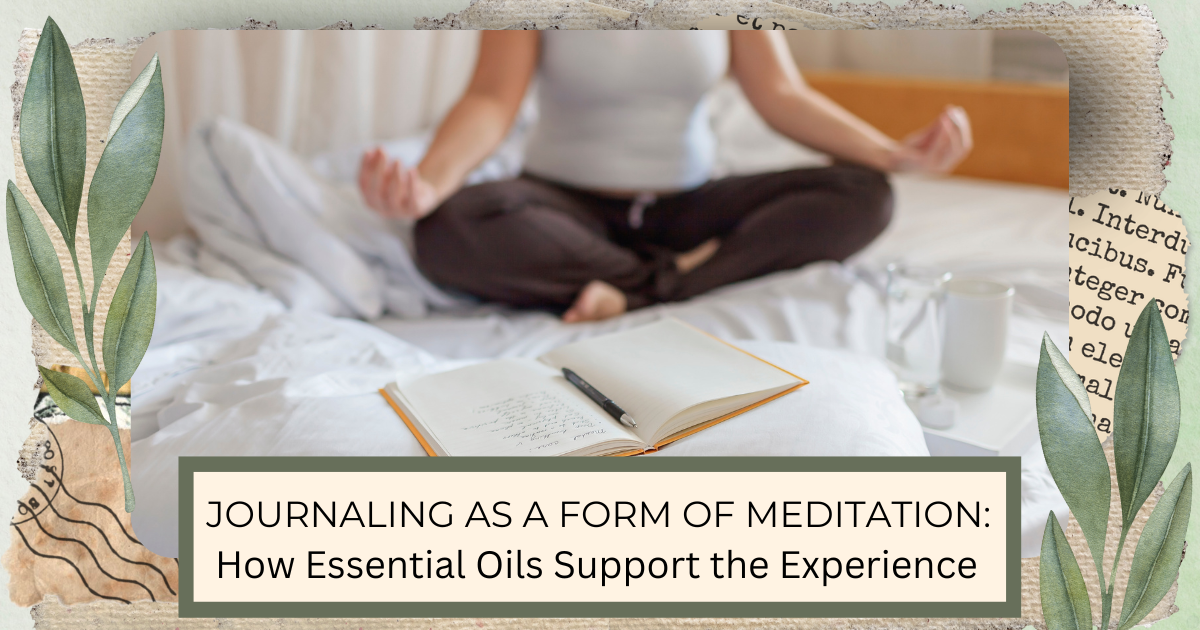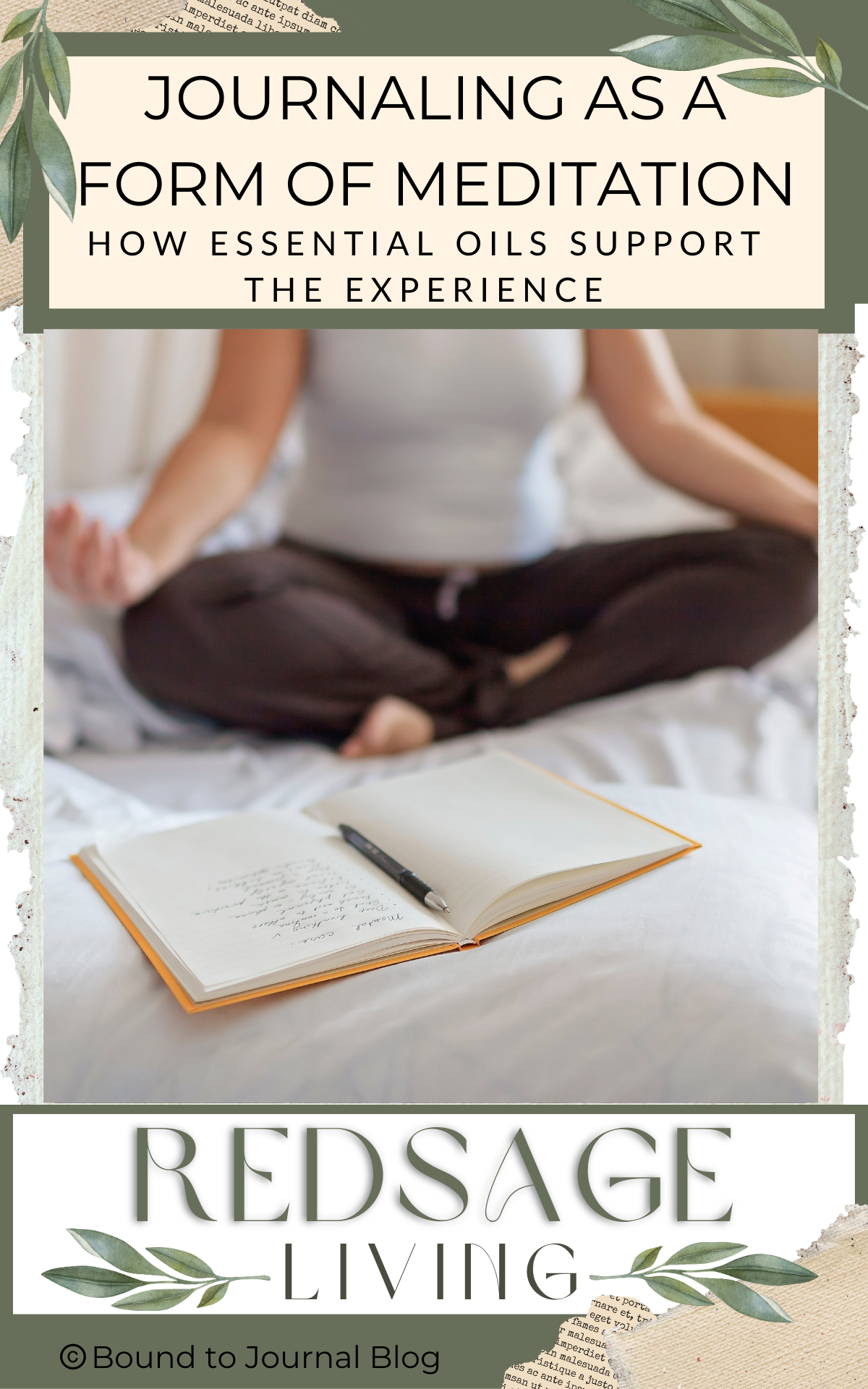 While meditation is often touted as one of the most effective ways to achieve inner peace, there's another practice that can enhance our well-being and lead us on a path of self-discovery – journaling.
Finding moments of stillness and tranquility can be a challenge in our noisy busy world. Many of us yearn for activities that calm our minds and nurture our souls.
While many people envision meditation as sitting in silence, there are various forms that can be equally transformative.
One such practice is journaling, a method that combines the benefits of reflection and self-expression with the powerful support of essential oils.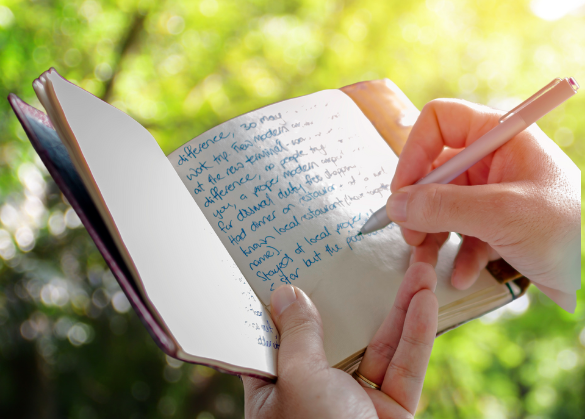 Journaling, meditation, and aromatherapy have been practiced for centuries. Combining the three blends a rich history of helping individuals process their thoughts, emotions, and experiences. The combination blends the art of writing with self-reflection, journaling is a powerful tool that can provide clarity, calmness, and a deeper connection with oneself.
Similar to traditional meditation, journaling encourages us to be present in the moment. When we sit down with a pen and paper, we are invited to focus solely on our thoughts and feelings. As we write, we become aware of the words flowing from our minds onto the page, allowing us to be fully present with our thoughts and emotions.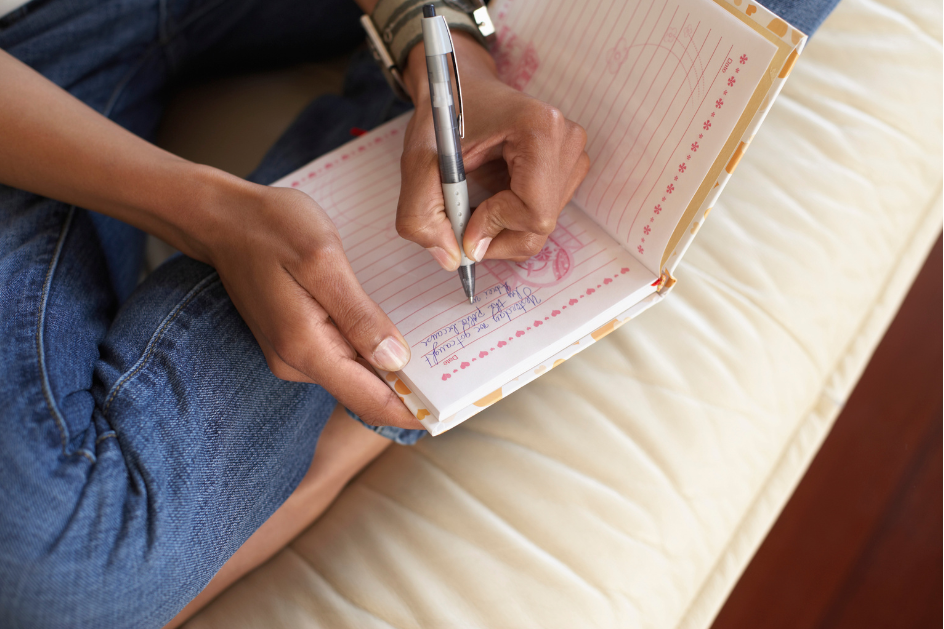 Let's look at how journaling and essential oils beautifully and powerfully support a meditative practice.
Journaling:
Journaling, at its core, is the act of putting pen to paper and allowing thoughts, feelings, and experiences to flow freely. It is a deeply personal and introspective practice that offers individuals a space to explore their emotions, aspirations, and fears. Through journaling, one can gain clarity, release pent-up emotions, and develop a deeper understanding of themselves and their journey.
One of the benefits of journaling as a form of meditation is the ability to release pent-up emotions and thoughts. Writing provides a safe space for us to express ourselves honestly and authentically. We can write down our deepest fears, worries, and anxieties, allowing them to be released from our minds. This act of letting go provides a sense of relief and can lead to a greater sense of peace within.
Additionally, journaling has the power to create a sense of self-awareness. By consistently writing in a journal, we can begin to recognize patterns in our thoughts and behaviors. This self-reflection allows us to identify areas of personal growth and development. When we take the time to explore our inner landscape, we gain a better understanding of ourselves, our values, and our aspirations. Journaling can help us navigate the complexities of life and make more aligned choices.
Furthermore, journaling can serve as a source of inspiration and creativity. As we put pen to paper, we allow our thoughts to flow freely, unhindered by judgment or criticism. This freewriting technique can spark new ideas and insights, fueling our creativity and problem-solving abilities. Journaling provides a safe space for us to explore our dreams, desires, and passions. By delving into our subconscious, we uncover hidden gems that can guide us toward a more fulfilling and purposeful life.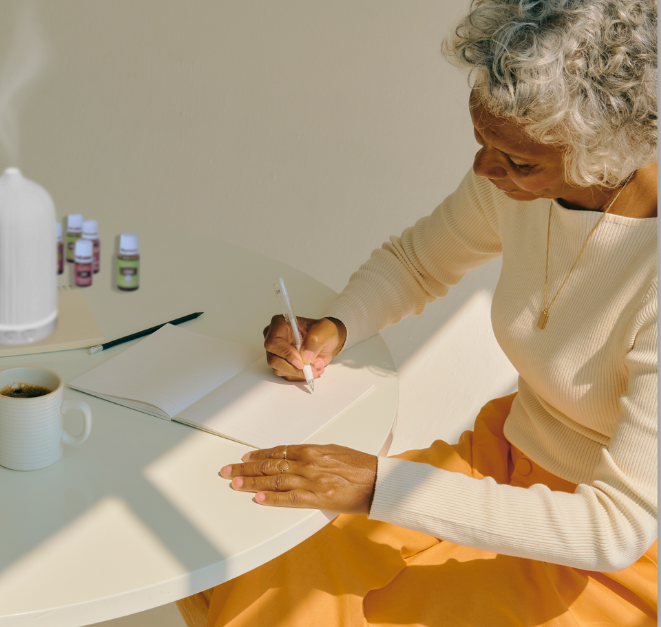 Essential Oils:
Incorporating essential oils into your journaling practice can enhance the overall experience.
The wide range of essential oils can support relaxation, focus, and emotional well-being. Diffusing uplifting citrus oils like Lemon or Grapefruit can create an invigorating atmosphere while grounding scents such as Lavender or Frankincense can promote calmness and stillness. Applying essential oils topically on your wrist or over your heart can help anchor your intention and connect your mind, body, and soul.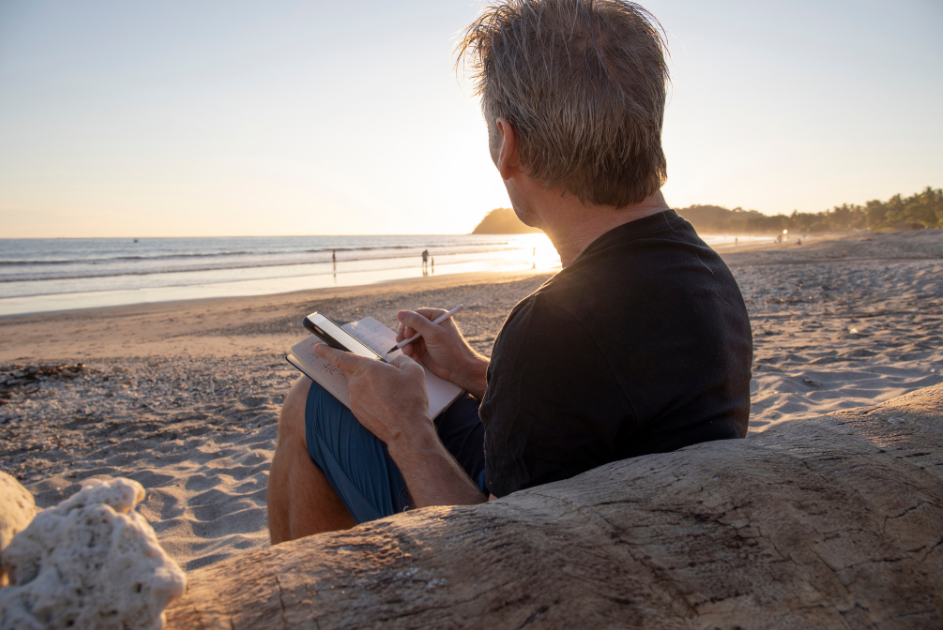 To make the most of your journaling meditation:
Find a quiet and comfortable space where you won't be disturbed. We always recommend a connection to nature whether you're sitting on a park bench, looking out a window, or if need be, having nature sounds and images in your journaling space.
Diffuse or topically apply essential oils that support your journal meditation needs.
Set aside dedicated time each day or week to engage in this practice.
Allow your thoughts and emotions to flow freely and without judgment.
Remember, it's not about writing perfectly or impressing anyone – it's about releasing, calming, expressing, and connecting with your inner self.
Journaling as a form of meditation is a beautiful practice that can bring clarity, awareness, and creativity into our lives.
Providing a safe space for self-expression offers a powerful tool for self-reflection and personal growth. When combined with essential oils, journaling becomes even more potent, enhancing the overall experience and promoting a deeper connection with ourselves.
Whether you're a seasoned meditator or new to the practice, consider incorporating journaling into your routine and witness its transformative power on your well-being.
To support you in your new journal meditation practice, we'd recommend these two articles:
Enjoy the scent of a beautiful life💦🌳📓✍