May 18, 2023 12:28 PM Central
Bound to Journal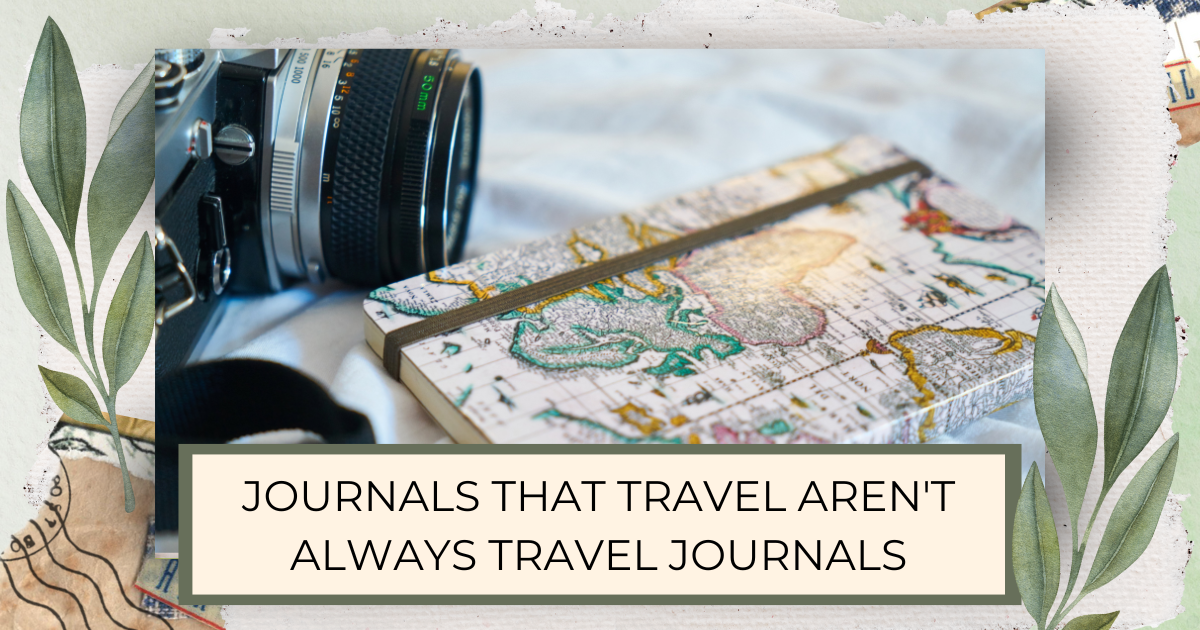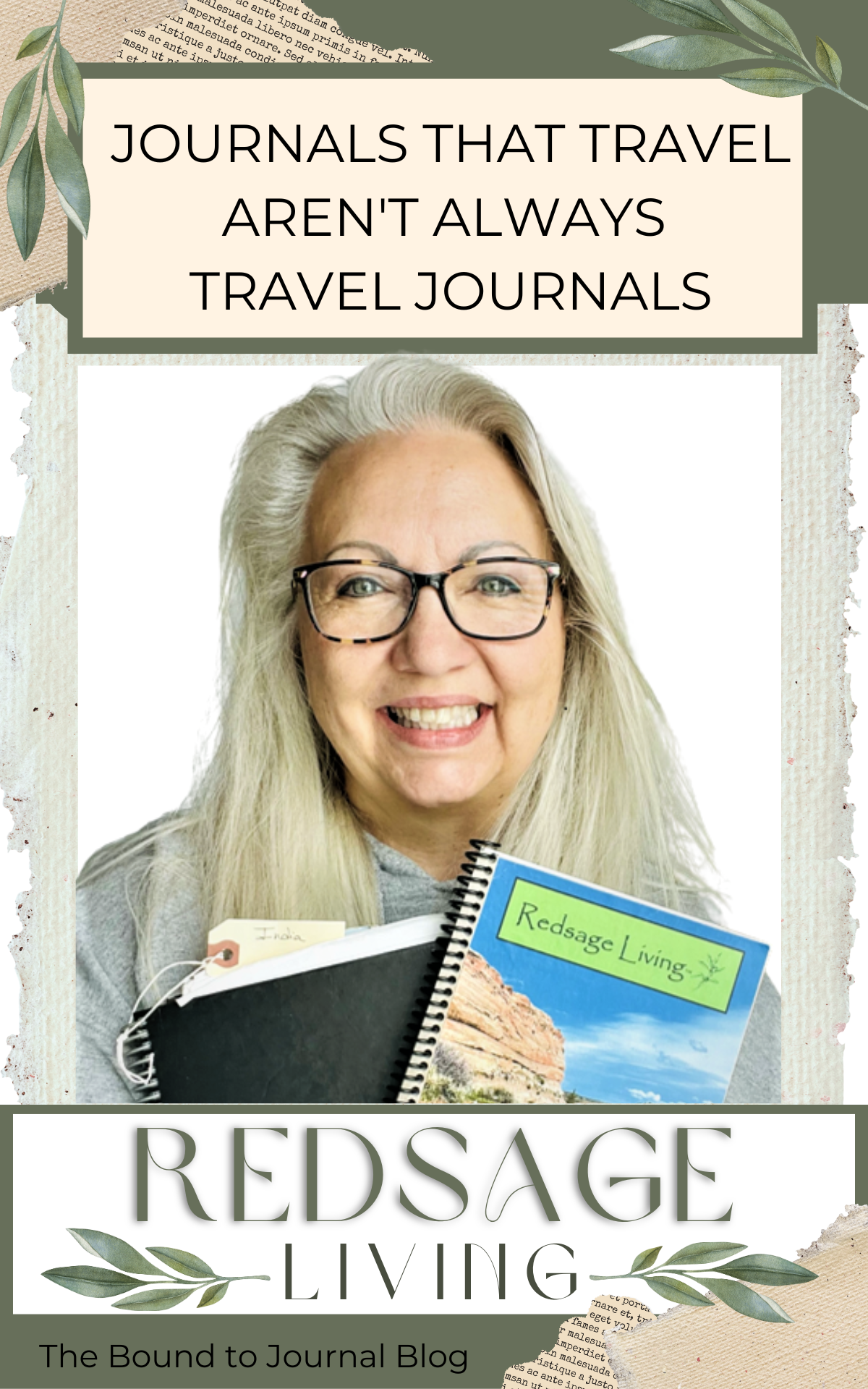 Sometimes, it's important to distinguish between a journal that travels and a traveling journal. I learned this during an awkward but valued experience.
During a live Zoom interview, I found myself in a hotel room, sitting on two pillows in an uncomfortable office chair when I realized this distinction.
My friend, Jill Lebofsky, asked if I would consider sharing some of my journals with her audience. I panicked! I had two pull-along office cases filled with journals that always traveled with us and a few of my special travel journals from overseas trips but,…
I'd been so focused on getting my backside up on top of the pillow-covered chair, I left all of our journal examples just out of reach! Retrieving them and getting back into position to continue--all while on camera-- would have been a feat worthy of a video blooper prize!
As in any uncomfortable situation, I put on a smile and did my best to cover my blooper while providing a thorough description of every journal, emphasizing their distinctive traits, and how each catered to the users' travel needs. The live on-camera act of describing exposed subtle yet significant characteristics I'd previously overlooked. Those details have since woven their way into improving our journal creations and educational workshops.
What distinctions did I discover?
Let's start by looking at journals that don't travel.
These journals are content and happy staying put. They might live on your nightstand for your gratitude lists, recording dreams, or for jotting down inspirational thoughts that emerge when your brain finally calms down at night.
Journals may just hang out in your workspace.
We keep one by our journal binding equipment to record measurements and other details. There's also one in our woodworking & shop area where we draw designs, graph out ideas, calculate materials, and make supply lists. Don't forget the journals that live in your kitchen for food plans and recipes or one in your workout area.
These are all journals that want to stay in their designated space ready to serve their purpose.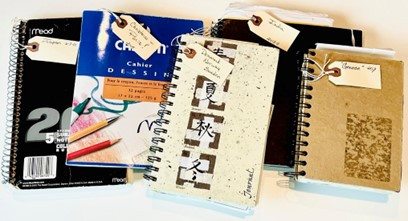 What is a Travel Journal?
A travel journal is meant to be a companion on your adventures and travels. It provides a designated space to record your experiences and serves as a helpful resource that you can carry with you throughout your trip or series of trips.
It's usually a compact size to fit in a backpack, carry-on, or glove compartment. They're often the least embellished and most inconspicuous of our journals. You usually don't want your travel journal to stand out and scream, "I'm a tourist!"
When creating or purchasing a travel journal, you want to anticipate your travel plans and needs.
Is your trip a solo adventure or are you with a group? Are you driving or flying? Will you be gathering amusement park tickets, bus passes, or leaves on your nature hikes? Will you be doing more drawing, writing, or a mix? Does it need to hold a pen or pencil? Does it need to have a closure to keep things safe?
We'd recommend preparing your travel journals in advance of a trip. This is especially important for international travel.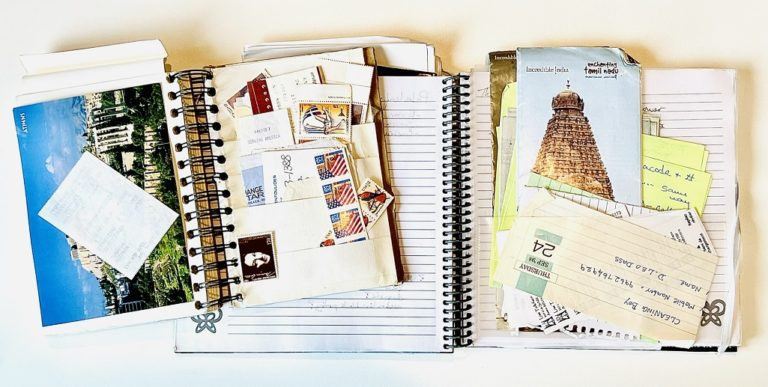 What does a Travel journal need?
When traveling, it's important to have access to currency exchange rates, emergency and contact information, language notes and key phrases, itinerary notes, as well as map sections (not necessarily the full-blown fold-out version). This isn't about overloading your journal before you leave home! We've seen and experienced both so we know you'll love and appreciate the time you spend anticipating your needs and feeling organized.
A good travel journal should include pockets of all sizes to hold postage stamps, receipts, tokens, or other ephemera to save for future creative journaling opportunities. Even wrappers of common food items written in foreign languages can be a unique gift for a collector or an addition to your journal entries later.
Where appropriate, we'll tip in (a bookbinding term meaning to glue the edge into the spine) small important documents that can lightly fold to easily expand later.
Creating a travel journal is a great way to organize your thoughts and vital travel pieces all in one little spot. Preparation provides peace of mind and a resource ready to accompany you on any travel adventure.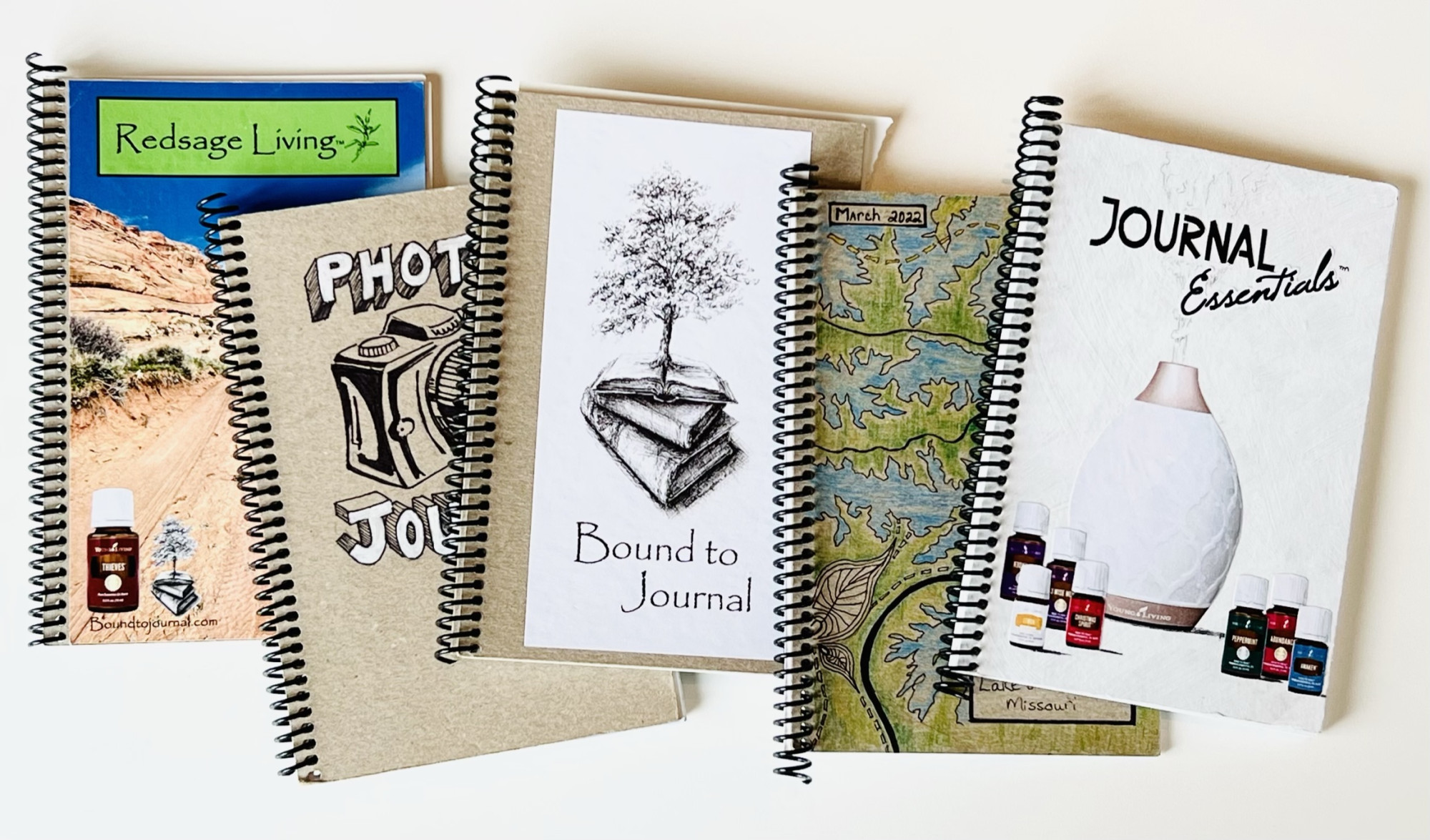 Then, what is a traveling journal?
A traveling journal is a journal—in our case several journals—that go everywhere we go!
They accompany us on all kinds of journeys, whether it's a quick trip to work or a longer adventure. They're always ready for daily activities, work obligations, and leisurely pursuits. We use these journals for a variety of reasons, such as recording business actions, making playful doodles, producing serious artwork, practicing daily writing activities, jotting down brilliant ideas before they slip away, or simply keeping track of to-do lists.
Your choice of traveling journals will be as individual as your other personal preferences, pastimes, and passions. In fact, you may already have a few in the works but don't think of them as journals. Do you write in the margins or covers of your books? Do you keep a notebook in your purse, briefcase, or vehicle?
Our traveling journals have distinct themes that we keep separate for specific uses.
•Work journals
Record business conversations including who, what, and when notes. These journals are always near our workspace during office days and travel to work sites, workshops, and meetings.
•Bound to Journal™
Article ideas, reminders, interview questions, class ideas, giveaways, brainstorming, and general notes. We tuck in new research articles to review and stash ephemera we collect along the way.
•Redsage Living™
Redsage Living™ is our LLC so this is our overall business journal. It includes things like our dreams and goals, big-picture planning for adventures, donation ideas, brainstorming notes, and vendor event details or anything similar relating to journals, essential oils, or Allen/Lisa business life.
•Journal Essentials™
This journal focuses on essential oils and all their amazing benefits. We provide detailed information on each oil's unique qualities and uses, as well as a wide range of recipes to support your body systems and enhance your journaling practices. We include labels from oils, supplements, and Young Living ™ products for easy reference. You can even keep track of when you started using a product and record your experiences. Whether you're on the go or helping a customer, our handy resource is always at your fingertips.
•Photo Journal
When taking photos during our travels, we make it a point to record small batches of images at each scheduled destination. This practice helps us recall the importance of each photo, its corresponding location, and the overall experience. It comes in handy when we're trying to retrieve images for use in articles, social media posts, or class presentations.
•Fishing Stories Journal
Because our fishing and hiking equipment is always available for a spontaneous experience, this journal is a great way to remember where we were, who we were with, what we discovered, and whether it was an experience we'd like to repeat or not. It's also a spot to note exaggerated stories of the "monsters" we catch.
•Calendar Journal
This journal is a calendar-based visual reference that uses color-coding. It contains significant notes such as out-of-town work, social media posts, newsletter dates, vendor shows, special events, submission deadlines, and contract details. Additionally, it reminds us to highlight blocks of downtime for rejuvenation.
•State & National Park Journals
We really enjoy keeping these journals in the glove compartment of our truck. The South Dakota state park journal is designed like a passport and offers incentives for visiting all 67 parks, which we've done. It inspired us to try new routes and explore more. We also have a National Park Journal which we've had for years. It's a great way to enhance our road trips, encouraging us to take photos, stretch our legs, and immerse ourselves in the stunning natural beauty.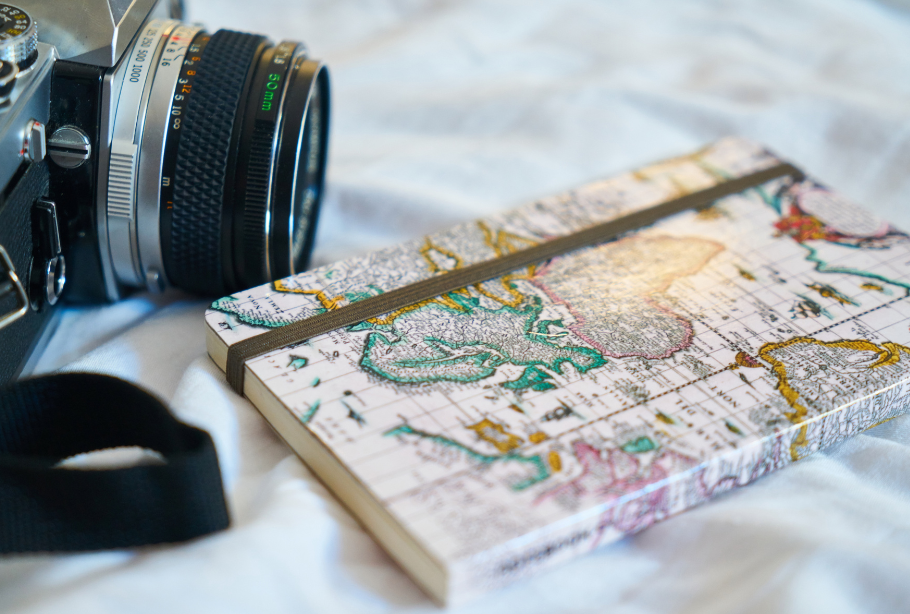 Important reminders for both travel and traveling journals
Travel journals and their contents should be easily accessible for spontaneous entries. Similarly, traveling journals must allow for unplanned additions.
Journals are intended to be your resources. You need to be able to access them quickly. Always prepared and keep them within reach!
Protect your journals from wrinkled pages with either closures or keep them in a zip pouch.
Attach an envelope or two inside as pockets to keep the small things you collect.
Keep your pen/pencil handy. Attach a pocket, loop, or tie them on with a string.
Keep dram-sized or larger sealed bottles of peppermint, lavender, and citrus fresh essential oils handy.
Bring along a few extra supplies: glue stick, colored pencils, a fine-line sharpie, small scissors, and an eraser.

Why not grab your journal and consider taking a little adventure, even if it's just to your backyard or the nearby park? Enjoy yourself and take pleasure in documenting your experiences!
Whether you're creating a travel journal for a big trip or simply bringing your journal with you on your travels, the key is to keep writing. That's why we remind everyone to…
"Never miss the opportunity of the moment. Capture memories one journal entry at a time."